The Tubridge Ranch Team
Introduction: Collaboration and Community
Our integrated team is committed to the health and growth of each of our clients.  Uniquely qualified to provide excellence in equine, canine, and outdoor-based experiential learning, Tubridge Ranch offers an effective alternative to traditional therapy and skills training. 
As licensed mental health professionals, EAGALA certified equine therapists, accomplished dog trainers, and behavioral health specialists, our Directors, Medical Professionals and Staff offer a complimentary range of skills and expertise to support the mission of Tubridge Ranch.
Our mission of creative cooperation is embodied by our staffing structure, which includes members of the wider community as adjunct instructors and therapists at the Ranch.  A professor from one of the many nearby colleges, a therapist with a specialized skill-set, and a local non-profit organization focused on ecological restoration might all be appropriate for inclusion in our program offerings.
Directors and Staff:
Marco Osorio, President/Founder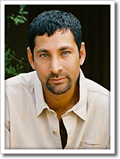 Marco has been an integral part of the Prescott behavioral health community since 2007.  He has worked in a non-profit capacity for the majority of that time providing direct-care services to children and teens in schools, homes, and community settings.  He brings his strong leadership skills, attention to detail, and community relationships to the day-to-day coordination and oversight at Tubridge Ranch.  Internationally accomplished in breeding and competition with working German Shepherds, Marco provides an unparalleled opportunity to experience the tremendous capacity of dogs to heal and inspire.
Craig Scheinerman, MBA, Treasurer
Educated in business and finance and currently working as Capital Finance Manager, Procurement Finance Manager and Senior Financial Analyst for Intel Corporation, Craig is the financial advisor for Tubridge Ranch.